After last week's introductory post, I managed to get some work done on some things and completely ignored others. Which was to be expected, I think.
The facts are these.
1. Baby Cardigan #1 is done, and Baby Cardigan #2 is underway. I'll probably have it finished by the end of the week, which is good, because Baby #3 is due sometime this week and I'd like to send of that third cardigan as soon as I can.
2. I mentioned last week that I wanted to crochet a baby blanket for another friend, and I was teaching a gal to crochet over the long weekend, so I started the Vintage Crocheted Blanket and it is zipping right along. My plan is for it to be a smallish receiving type blanket, good for layering in a stroller. The colors are so Charlie Brown and knitting gods save me the yarn is not superwash but again, not intended for every day use. Though it might look super cool felted, I don't know.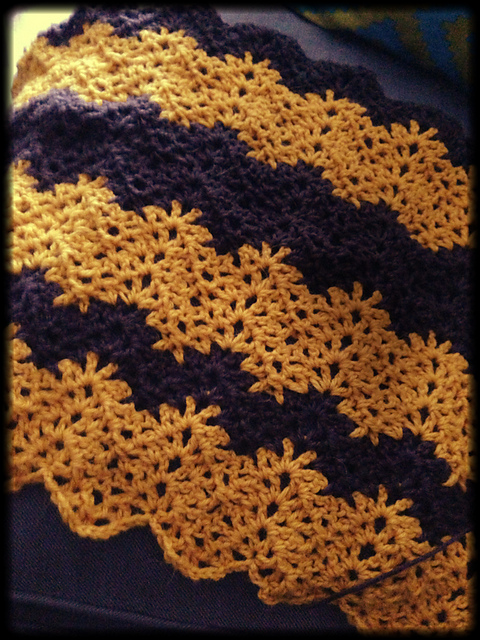 3. I made some progress on my Null Hypothesis Scarf, though not as much as I would have liked. I have a goal of knitting one chart every week and I made it about a third of the way through the third chart.
4. Finally got around to knitting a swatch for mom's cardigan, so I need to wash that tonight and then I can hopefully start the knitting.
I did not work on the crochet scarf or my Albers pullover at all. Basically if a project doesn't have a self-imposed deadline of "I want to give this to someone soon!" I didn't make it a priority.
BUT! Progress! That's what is important. That and not casting on for anything right this minute.
Categories: Works in Progress
Amy