Happy New Year (again)! Here's the first Last Week on the Web of 2016—it's pretty meaty, since it comprises the last couple of weeks of 2015, but there are some great stories, including my favorite…
THIS IS THE MOST AMAZING THING BECAUSE YOU CAN MAKE THEM INTO REALITY. Gizmodo announced that Netflix had provided instructions to make socks that can tell when you've fallen asleep and automatically pause your Netflix binge. I thought "hahaha that's a hilarious gag" except NO REALLY, NETFLIX PROVIDED INSTRUCTIONS TO MAKE SOCKS THAT PAUSE YOUR NETFLIX BINGE. We may not have actual hoverboards, people, but the future ain't so bad.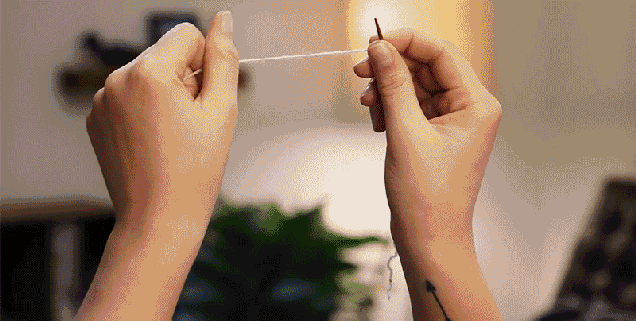 Only slightly more common than unicorns, a story about good things coming from Florida (my home state—I can say that!). A woman in my part of the state is creating mats for the homeless by crocheting plastic bags together.
Hazel Tindall is officially the fastest knitter alive, and this lovely write up blends her knitting accomplishments with a brief history lesson of Shetland and knitting.
I'm a fan of Netflix's Jessica Jones series… even if I haven't had time to actually finish watching it… and it turns out that the show's star, Krysten Ritter, is also a knitter!
Here's an adorable stop-animation video featuring a knitted black forest cake!

Black Forest Cake from Marion Ber on Vimeo.
A woman in Omaha donates a bunch of knitwear to people in need every year.
Love Doctor Who? Apparently, if you wrote to the BBC asking about the iconic 4th Doctor's scarf, you would get instructions to knit it. How cool is that?!
What not to say when opening handmade gifts. I'm pretty sure no one has ever said Number 2 to me, which is good, because I have a bunch of sharp pointy needles with me at all times.
And then there's 60 thoughts you have when knitting presents. All of which are accurate and explain why I rarely knit gifts for people these days.

Did you know there was a record for most Christmas sweaters worn in one place? Neither did I, but there is, and a group of employees in the UK have set the new record.
Outside magazine had a bit to say about the resurgence of the American wool industry. There are some interesting phrases (for instance, I don't think wool can technically "shrink" though it does get smaller as it felts) but it's got some cool facts I didn't know about.
Professional Yarn Detanglers are a thing (the Wall Street Journal even ran a piece on this), and Indie Untangled wrote a blog about working with a detangler on a project. I've definitely traded knitting-related favors for yarn untangling. Have you?
A woman accidentally locked in a public restroom for four days survived with mint candies and her knitting.
Techniques
The Yarn Loop provided tutorials for a tubular cast-on and crochet provisional cast-on both of which are excellent skills to have!
Here's a quick post on avoiding uneven row tension (or "rowing out") when knitting back and forth.
Here's a tip for avoiding holes when picking up stitches of a heel flap.
Moment of Zen

Categories: last week on the web
Amy